Three countries in northern Europe are hiding behind the name " Scandinavia ". A few months ago, I added a spontaneous visit to Sweden and Denmark to Norway , which I ran by boat . I didn't plan much, I only had accommodation booked and I went in the style of "I'm going and googlim." Nevertheless, I returned with a lot of experiences and tips. Thanks to them, you will fully enjoy Sweden and Denmark, which have a reputation for more expensive destinations. In this article, I will tell you about Stockholm .
How to get to Stockholm
If you want, you can also go to Stockholm by bike, but the fastest way is to fly. There are 4 airports near the Swedish capital. The nearest, 9 km away Bromma, receives domestic flights. The main airport is Arlanda. It is 40 km from Stockholm and is used by most airlines.
Västerås also uses the low-cost ones for a few flights . Their main airport is Skavsta. It is called Stockholm, but in fact it is up to 100 km from the metropolis, near the city of Nyköping. I also flew here with Ryanair.
The ticket cost only € 9, which is not exceptional, as autumn is no longer the main season in Stockholm. If you want to go in the summer, look in advance . You can find out more about how to search for flights cheaply and cheaply in the article on finding cheap flights .
How to get from Skavsta Airport
By bus and train via Nyköping
The airport (the stop is called Skavsta Flygplat) is connected by public transport to the center of Nyköping. There is a bus there every hour, currently number 515. The ticket can be bought at the Pressbyrån store at the airport, via the app or the Sörmlandstrafiken website , and on the bus, where you can only pay by card. The destination of the line is 7 km away – railway and bus stations, from where there are also connections to Stockholm.
SJ trains run to Stockholm Central Train Station . You can buy tickets at the station, in the application and on the website. You will travel for about 1.5 hours.
Direct airport bus Flygbussarna
The shuttle bus connects Skavsta Airport with Stockholm Central and Norrköping and Linköping. You leave the terminal and there is a platform just around the corner, where you get on the bus and wake up in Stockholm in an hour and a half. It is quite cheap (199 SEK), compared to the journey by public transport only about 2 € more expensive and much more convenient. Tickets are bought at the box office at the airport, on the bus (only by credit card), in the application or on the website .
Flygbussarna adjusted the conditions through a pandemic. They are still very flexible. You do not buy tickets for a specific day and bus, but with a validity of 3 months, during which you can travel both directions. Unused tickets can be canceled (while valid). When buying via the web or application, it is even free of administration.
Bus departures from the airport are still adjusted to the actual arrival times, to which is added a reserve so that passengers can pass any tests and vaccinations. The timetable is regularly adjusted according to changes in the timetables that are still taking place. If the flight is canceled, the bus is automatically canceled.
Transport in Stockholm 
I really enjoyed walking in Stockholm. The city is not so huge and its most attractive places are, with a few exceptions, quite a bunch. In the capital of Sweden, do not look for hygge, rather austere, even German. Thanks to it, everything works, including transport, for which you have endless possibilities. Classic taxis are also available, as well as shared transport services via applications such as Uber and Bolt.
Scooters 
Scooters from Bolt , Lime , Voi , Bird , Tier and others are everywhere in the city . You will also find price information on the individual pages. I didn't rent a scooter, because why would I go fast if I don't know where I'm going. But it's simple and it works like this:
you download the application,

create an account with a payment method

you scan the QR code of the scooter you want to borrow,

you ride

you return to the place indicated in the application, where you confirm the return.
You can also rent a bike through the EU Bike application. That is, if the weather is right.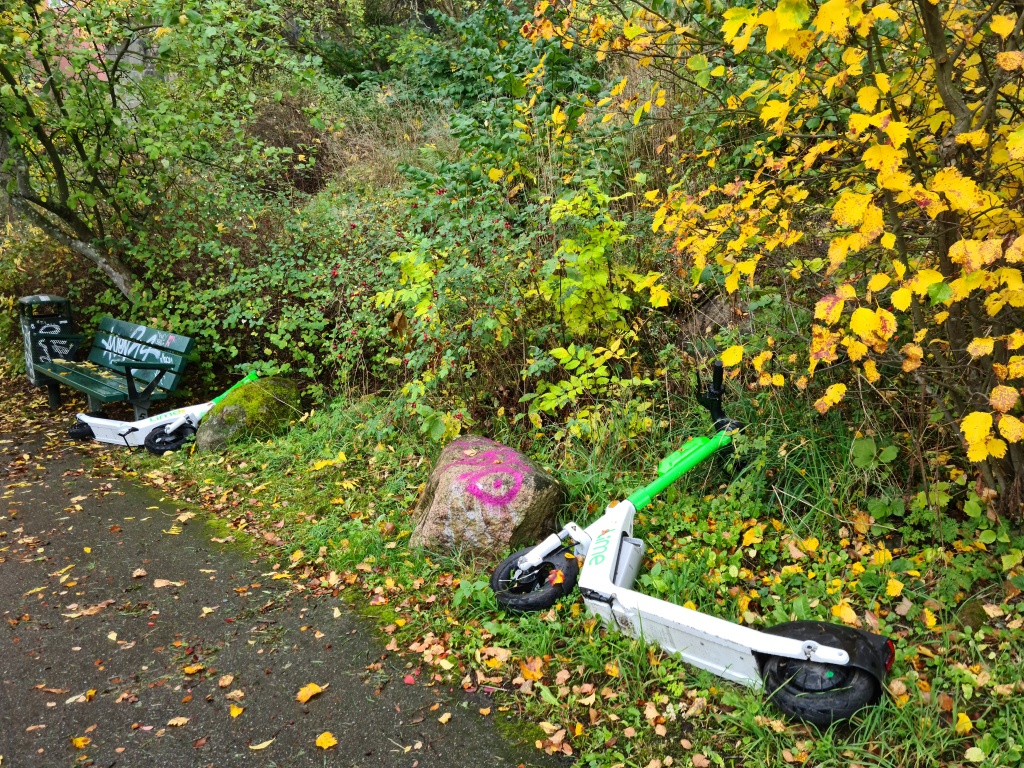 Public transport 
Stockholm's public transport consists of the metro, buses, trams and ferries. They cover the whole city, including the more distant islands from the center. Wherever they go, and at what times, you will search the site , just like in any other major city.
You can also get to single transport tickets very easily. In addition to vending machines and shops, you can also buy them by attaching a payment card to the reader and in the " SL-Reseplanerare och biljetter" application , which is also used for trip planning.
Ferries are very popular in the city. Many places are also promoted by the Hop on & Hop off boat , which works similarly to a tourist bus. It runs its circuit, and when you buy a ticket, you can drive, get on and off at any stop all day. But there is also a public ferry to all places of this tourist ship or you can cross bridges there. Its only advantage is the audio guide on board.
Accommodation in Stockholm 
I also wanted to live close to the center in the Swedish capital. It saves time, and when I go alone, I prefer to live in places where it lives more. I feel safer there than in the outskirts , especially when I go out in the dark.
I chose the Riddarholmen section. It is a small island in the center, which is part of Gamla Stan. Not to be missed is the church where several earlier Swedish monarchs were buried. From one part there is a beautiful panoramic view of the bay Riddarfjärden and the town hall in the background. There was also my hotel, more like a boat. I used to live on a boat, in a cabin with a view directly across the bay.
Accommodation at Mälardrottningen Yacht Hotel & Restaurant was original and excellent location and services. If you haven't been on a ship yet, know that the cabins are quite small, you may have a claustrophobic feeling here.
In addition to Riddarholmen, I also considered accommodation right in the heart of Gamla Stan, the Old Town with all the sights and a bunch of places where you can eat or have a drink. And also Norrmalm, a modern and commercial area. Although it has fewer attractions, it is close to the main ones. In addition, it is a transport hub of the city with top shopping opportunities.
Whatever location you are considering, I recommend you book your accommodation as soon as possible (preferably one that offers free cancellation). I reckoned that when there was an off-season and a pandemic, there would be a lot of free and cheap rooms until the last minute, and I paid for it.