Half a million travelers from 183 countries in the world voted in an annual "poll" about the city, which they say should become the European number 1 destination for 2022. Of the 400 cities, the city won a few hours away by car from the Slovak border. You can read about it and other competing cities in this article. Lots of inspiration in front of us, let's get started!
Ljubljana, Slovenia
The capital of Slovenia, Ljubljana, took first place in the vote, and thus won the European Best Destination 2022 award . Not really me. Slovenia has (niele) perfect potential in tourism, they know how to work with it and this is reflected in their activities.
Marbella, Spain
The capital of the sun, Spanish Marbella is a love at first sight for all lovers of good food (Spaniards really know it) and hatching on the beach, but also for hiking enthusiasts or shopping people. If you are currently deciding where to go for a trip in Spain, come here.
Marbella is located a short distance from Malaga, this whole southern part of Spain, Andalusia , is a perfect combination of Spanish culture, beautiful weather, sea breeze and as a bonus there is a piece of England in Gibraltar.
Amalfi Coast, Italy
I traveled the Amalfi Coast cross-country and even all by myself. Of course, I wrote my impressions and tips in the article . It's my favorite piece of Italy, where I like to go back and even better send people there on vacation. Rocky beaches, lots of delicious ice cream and hot sun along with cute streets mean romance as embroidered.
As soon as I wrote, all the beautiful memories and experiences that I collected here appeared to me. If you can, go, you'll fall in love! ?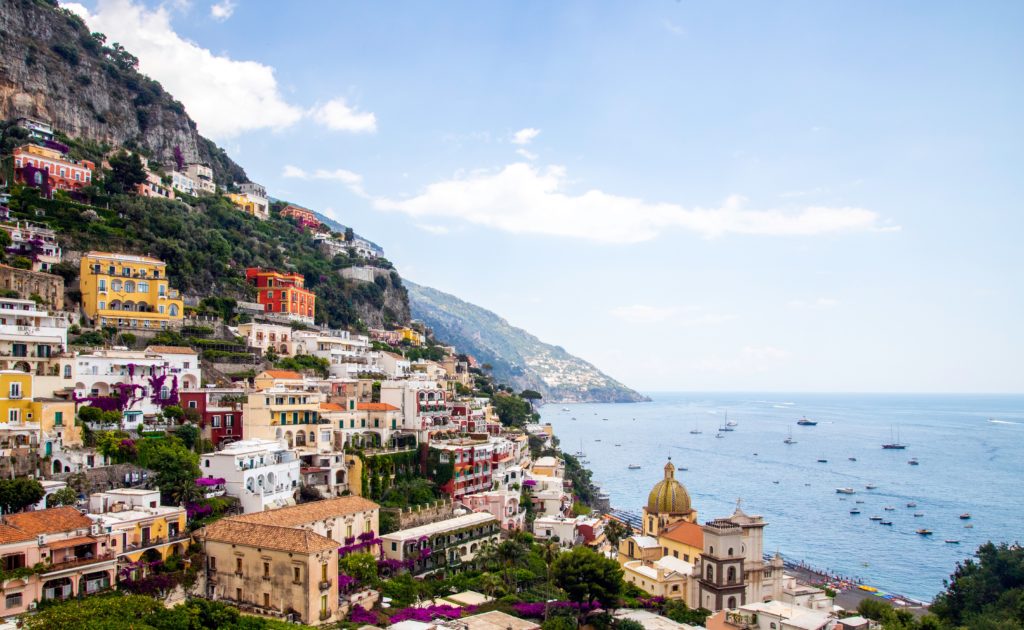 Bavaria region in Germany
The region in the south of Germany, which is most popular with tourists, is Bavaria. The biggest attraction are the incredibly beautiful fairytale castles,  the capital of the region, Munich, and the untamed beer lovers will go to Oktoberfest . Nature is also beautiful here, the Bavarian forests are rich in fauna and flora.
Whether you are building on nature or a city, both options will be the right choice in Bavaria. I leave the choice to you, especially to enjoy it there.
Lucerne, Switzerland
Lucerne has become a very popular town in recent years, which I really don't even wonder about. It's a place that looks like a holiday card. It is located in the heart of Switzerland , by the lake of the same name, surrounded by the Alps. In at least every other establishment, you will find people sitting on the terrace enjoying raw fondue.
Switzerland is a mega wau country where you will never be bored. Whether you go hiking or skiing, the mountain views will be worth the effort.
Prague, Czech Republic
Hundreds of towers. Is there anyone who has never been here before? I hope not, and if so, then it needs to be rectified urgently. All you have to do is exchange euros and set out to discover the beauties of our close neighbors . I just imagined crossing the borders and immediately my clinkers started to run for a pork-dumpling-cabbage.
Amiens, France
Another less popular city I want to introduce to you is Amiens. Amiens is a culturally soaked city, but it does not lag behind in nature either. Probably the most famous landmark is the cathedral and the fact that this city was the inspiration of the writer Jules Verne, who also settled here. So far, you can feel his presence on the streets.
In the heart of the city lies the Hortillonnages Park, which is one of the most beautiful city parks in Europe. I don't know about you, but I'd go now, I'm adding this city to my list.
Athens, Greece
A place where history breathes on you every step of the way, you eat delicious food here, life pulsates here and the sun warms up. So are Athens. Not to mention it's a holiday in a few bucks. Especially if you go out of the high season, then you will catch great prices and a few history enthusiasts who have chosen to discover the hidden beauties of the Greek capital just like you.
You will probably not find the most beautiful Greek beaches here, they will enchant you on Zakynthos , for example , but if you are an urban type, you will enjoy it all the more. More about another Greek island.
Leuven, Belgium
Once again an unexplored Belgian town for me, and I visited Bruges, Ghent and the capital  Brussels . However, it is said to be a really rich city, with perfect architecture, culture, food, art, culture and especially beer . The advantage is that it is relatively compact and you can get everywhere on foot or by bike.
From Belgium, it's a jump to the Netherlands – its oldest city, Nijmegen, also made it to this list, but I mention it only marginally.
Plovdiv, Bulgaria
This is one big surprise  for me . If I have someone who has been there, please let me know if it's worth coming here, because from what I saw in the photos, I want to pack up and come here tomorrow. Plovdiv looks like a beautiful town, exactly my style and I can completely imagine getting lost in those nice streets!
The city of Plovdiv is located in the middle of Bulgaria, so you can get here from both Sofia and Burgas. I'll probably leave Sofia, they say they have a direct connection.