What could be better than a run outside? However, it is important to carefully choose shoes for running on asphalt, because during such activity the load on the joints is quite strong. ELLE spoke with a Nike Run Club expert about how to choose the right shoes for running on asphalt.
ELLE How to choose shoes for asphalt running?
OLGA SMIRNOVA Asphalt is considered one of the most popular and accessible surfaces for running. But this does not mean that this option is the most useful for our body. Since the impact load when running on asphalt is very high (only tile and concrete are higher), you absolutely should not consider minimalist shoes with thin soles.
What to look for when choosing a model?
When choosing a model, first of all, pay attention to the sole and soft heel, the upper of the shoe should be uncluttered and light. For running on asphalt, the cushioning properties of the model are extremely important, which are one of the main requirements for this surface. If you still decide to run on asphalt, then the Nike Zoom Fly 3 sneakers in bright pink colors are ideal for this purpose. The properties of this model are revealed precisely on the pavement: light and comfortable, they are suitable for quiet runs, as well as for interval, fast or tempo training.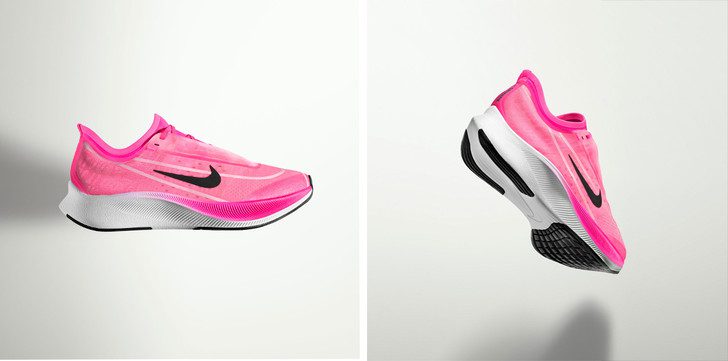 Are there any nuances of running on asphalt (special technique, stress on the joints)?
Running is already a big impact load in itself, and on asphalt it only increases. If your running technique is a heel-to-toe roll, then try to make this roll softer and not lean completely on the heel, otherwise the entire shock wave will pass through it into the knee joint and make its way all over the body. This technique is only suitable for a calm slow pace.
If you are already an experienced runner and your pace is faster than 6.00 per kilometer, then you should try to land on the middle of the foot. Don't take it literally as running on your toes. Landing on the middle of the foot (the end of the ball of the foot), then the heel gently lowers and then the foot moves back to the ball, after which the last push is made by the thumb. Imagine that you are pressing the pedal – the same thing happens with the foot.
And don't forget about springy movements that can soften the shock load and, importantly, relieve the knee joints. After all, many people stop running because of knee pain during training.
ASPHALT RUNNING SHOES